There were twice as many of us this year at Steve Smith's studio and 4 Corners Gallery for SwampFire, compared to 2015. Steve invited a special guest, Heidi Reichenbach Finley, a Turkish marbling artist.
The weather was perfect: not too hot during the day, not too cold at night . . . with clear skies all three days. As always, we shared fine fiction, poetry, and creative nonfiction. On Saturday Heidi awed us with a demonstration of Turkish marbeling techniques and then helped us create our "masterpieces."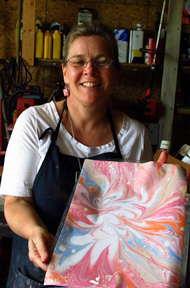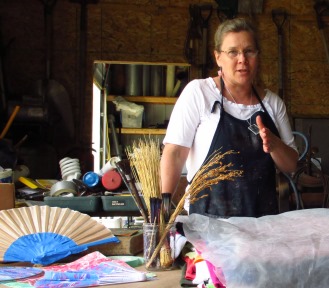 Heidi Finley describes Turkish marbling paint, tools, and techniques.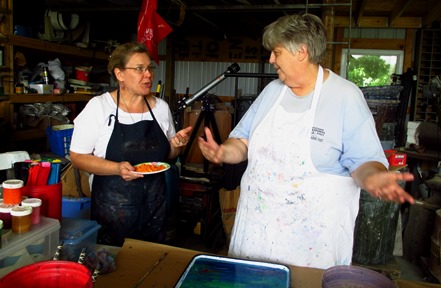 Heidi and Monica Heckel discuss Monica's color choices.
On Friday evening Steve had us all drawing our favorite images and then he and his associate, Rebecca Graves, turned our art into decals to apply to cups and fire in one of his many kilns. By Sunday morning the cups were ready for us to take home as a memento of an amazing retreat experience. Thanks, Steve and Heidi.