Absurd. Midwestern. Gothic: Dawn Comer's website
Dawn Burns, writer, professor, and collector of beautiful things from other people's lives, began the SwampFire retreat by opening her family's country home on 5-6 July 2008 to a visual artist and two poets.

Dawn earned her MFA in Creative Writing from The University of Notre Dame. In 2014, she received an Ohio Arts Council Individual Excellence Award in fiction. Dawn has served as president of The Society for the Study of Midwestern Literature, published in various journals, and taken The 42 Beautiful Things Project on the road to college classrooms, community organizations, and on stage.

A Hoosier by birth, Dawn returned to Indiana in 2016, settling in rural Whitley County to live at the farm where SwampFire began. She finds that country life suits her and her life's pursuits, the SwampFire retreat being, perhaps, the most favorite of them all. More information about Dawn Burns and her work, including information on how you can participate in The 42 Beautiful Things Project, can be found at www.dawnburns42.com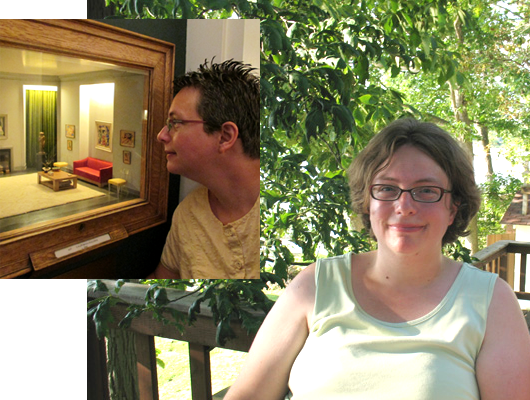 Top left photo: Dawn looking at her favorite Thorne Miniature Room, "California Hallway, c. 1940," in the Chicago Institute of Art
Main photo: Dawn relaxing just before a reading and discussion session at SwampFire 2012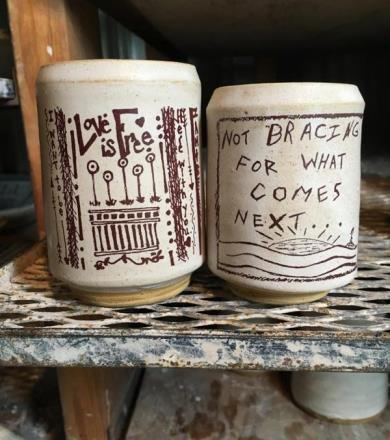 Dawn's designs on two cups, created at SwampFire 2016